The Non

-

Stic

k Double sided Grilling Pan that makes healthy food
A must have in every kitchen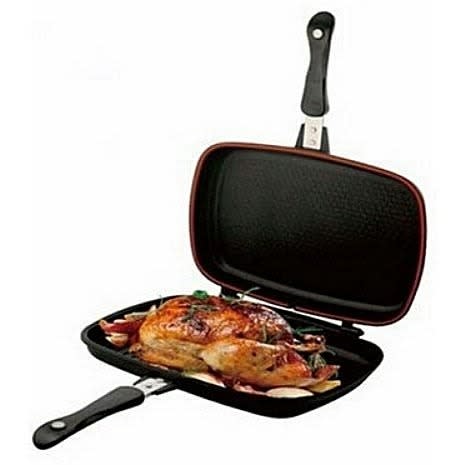 with this cookware; cooking is easier,healthy grilling is fun!!!

★ 3 Layer Food Grade Non-stick Coating Inside.Flip and Cook on Either Side;

★ 2 Pans can be Separated

★ Dishwasher safe; Easy to Clean

★ Ergonomic Handles, Strength and Durability. Handles Stay Cool on the stove.

★ Strong Magnet onHandle Gives Comforts
GRILL YOUR

FISH

, MEAT, CHICKEN,

SHRIMPS

,BURGER,BAKE YOUR PASTRIES ETC.....LIKE A PRO

NORMAL PRICE=37

,000
BUY TODAY FOR
21,000
FEW QUANTITIES LEFT HURRY UP AND GET YOURS TODAY

Payment is on delivery but please we need serious buyers so be sure you are ready for this product and money is available

NOW

at the point of delivery before placing the order
PLEASE FILL THE FORM BELOW TO PLACE YOUR ORDER
WARNING!!
PLEASE DON'T PLACE AN ORDER IF YOU WON'T BE AVAILABLE TO PICK UP YOUR ORDER OR YOU DON'T HAVE MONEY READY. YOU CAN ALWAYS ORDER LATER!!!
INCASE YOU DECIDE TO CANCEL AN ORDER YOU'VE ALREADY PLACED, KINDLY SMS/WhatsApp: 08160949983 TO NOTIFY US