BEST SMOKELESS ELECTRIC/CHARCOAL BARBECUE GRILL

INDOOR GRILLING AND COOKING MADE EASIER WITH OUR ELEGANT ELECTRIC OR CHARCOAL BARBEQUE GRILL
Road side Suya Joints are mostly unsafe, with the ingredients and method of preparation unknown
The fastest & easiest way to get that barbecue & Suya flavor right in your home without any hassles is with this BBQ Grill
Now You can prepare Roasted Corn, Fishes, Meat, Suya, FriesRoasted plantain(Booli), Barbeque easily.
Great Meal with Ease......
WE ARE OFFERING YOU 2 TYPES
TYPE 1: FOLDABLE CHARCOAL BBQ GRILL
1PIECES OF PORTABLE CHARCOAL GRILL IS N17,500
TYPE 2 : ELECTRIC BBQ GRILL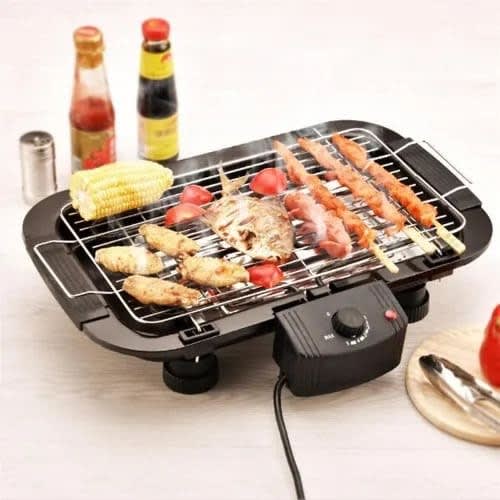 It portable and unique. Enjoy healthy, fast, and delicious grilled foods any time. , this lightweight electric grill lets you barbecue indoors! The cool-touch handles and housing helps you easily shift the device from counter top to table and then back to sink for easy cleaning. The product has additional safety feature of Micro-switch for safety lock and other features include automatic shutoff and Indicator. It consumes about of power with input of .
GRILL YOUR

FISH

, MEAT, CHICKEN,

SHRIMPS

,CORN,PLANTAIN,BURGER, ETC.....LIKE A PRO
All These and Many More can be achieved within Few Minutes From the Comfort of Your Home with Ease!!!

KEY FEATURES
. Detachable heating element
. Cool touch handles
. Special decorative coated steel housing
. Pratical ON/OFF switch.
Package Included:
1 x Barbeque Grill
1 x Grill Net
1 x Drip Tray
4 x Anti-skid Feet
1 x User Manual
Features:
Color: Black
Size: Approx. 48x29.5cm/ 18.90x11.61"
Material: Iron Chrome-Plated + Iron Electrophoresis + Stainless Steel
Temperature Control: 5 levels
Plug: EU Plug
Voltage: 230V 50Hz
Power: 1800W
High quality iron electrophoresis barbecue grill, rustless and durable.
5 kinds of adjustable temperature control, satisfy your desired temperature for different food.
Superior quality of temperature controller, Automatic power off when exceeding the rated temperature.
Specially designed big grill net with adjustable height, perfect for different barbecue demand.
Stainless steel save-all and drip tray to collect oil residue, convenient for cleaning.
Embedded u-shaped stainless steel heating tube - Heat is more uniform and food is more tasty.
With scald proof hand grips and heat insulation anti-skid feet, safe to use.
Great for indoor dinner party activity, garden gatherings, nearby beach barbecue, etc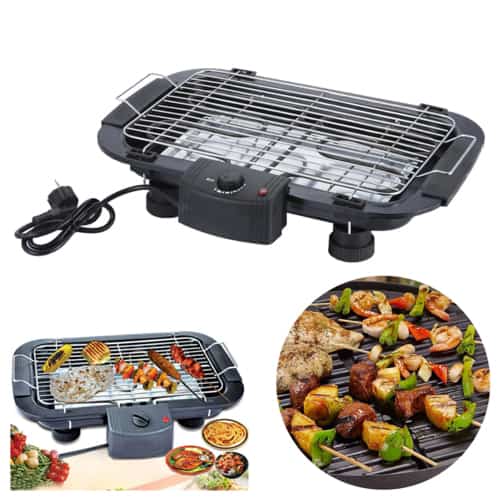 PROMO PRICE FOR 1 PCS OF ELECTRIC BBQ GRILL = ₦18,000
Payment is on delivery but please we need serious buyers so be sure you are ready for this product

NOW

and money is available at the point of delivery before placing the order

SO WHAT ARE YOU WAITING FOR?
PLEASE FILL THE FORM BELOW TO PLACE YOUR ORDER
THIS IS A COMPLETE LIFE SAVER!!!
We are making this Payment on Delivery based ON TRUST. Please be sure you are FULLY READY
CASES LIKE: * I DON'T HAVE MONEY, * I TRAVELLED, * MY WIFE/HUSBAND JUST BOUGHT IT, * I WAS JUST JOKING WITH THE ORDER AND * MANY OTHER UNREASONABLE EXCUSES ARE HEART-BREAKING AND UNFAIR.
WE USE MONEY TO SEND THE PRODUCT VIA COURIER COMPANY AND TO RUN SOCIAL MEDIA ADVERTS
Got questions or Need Anything? Call us on +2348160949983
*****************************************************************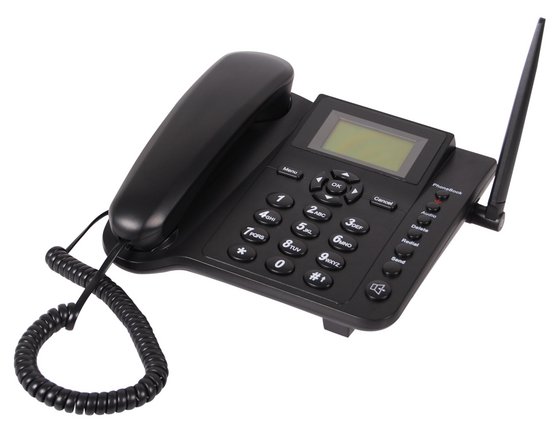 Hotline: +2348160949983 (WhatApp available