BEING AN AMAZING CUSTOMER,WE ARE OFFERING YOU 75% OFF ON THIS AMAZING TABLETOP STOVE GRILL IF YOU ARE BUYING TOGETHER WITH THE JUICER
TABLETOP STOVE GRILL....

Road side Suya Joints are mostly unsafe, with the ingredients and method of preparation unknown
The fastest & easiest way to get that barbecue & Suya flavor right in your home without any hassles is with this BBQ Grill
Now You can prepare Roasted Corn, Fishes, Meat, Suya, FriesRoasted plantain(Booli), Barbeque easily.
GRILL YOUR

FISH

, MEAT, CHICKEN,

SHRIMPS

,BURGER, ETC.....LIKE A PRO

Nonstick ceramic surface heats evenly to cook and brown food to perfection.

User-friendly and detachable temperature dial/heater with 4 heat/cooking settings - warm, low, medium, and high heat; Cool-touch handles and heat-proof frame for added safety; the Gotham Steel Grill pulls apart for easy cleanup and storage.

Removable grease catcher fits snugly and is ceramic-coated to greatly reduce smoke-production caused by burning grease.

Note from manufacturer: Product is dishwasher-safe (except electrical component -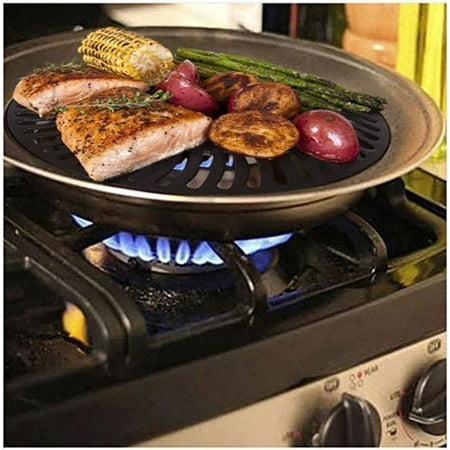 Kitchen Non Stick Stovetop Indoor Grill is your super smokeless stovetop grill suitable for barbeque, meat and veggies.
It has a safe, non-stick surface that will allow food to cook quickly without sticking, and that same surface will make it easy to clean afterward. Safe Cooking For Your Meat and Veggies

Fill the stainless steel drip pan with water, or your favorite marinade to add moisture to your food, infuse flavor, and prevent drying.

It supports to collect all of the drippings from the food you are cooking, and also can be used to steam flavor into your food.
this High Quality And Nonstick Surface is Easy to Cleanup and Use It On Your Electric, Gas, Or Propane Stoves Indoors
Eliminates Smoke And Splattering.
KEY FEATURES
Superior Quality
Efficient
Easy To Operate
Non Stick
smokeless stovetop
SO YOU CAN MAKE YOUR TASTY SUYA INDOOR LIKE ABOKIS

HOT HOMEMADE GRILLED PLANTAIN(BOLI)

PROMO PRICE = 9,000

PLEASE FILL THE FORM BELOW TO PLACE YOUR ORDER